Cauliflower Fried Rice
Summer / Fall / Winter / Spring / Cook / Main Dish / Peanut Oil / Side Dish /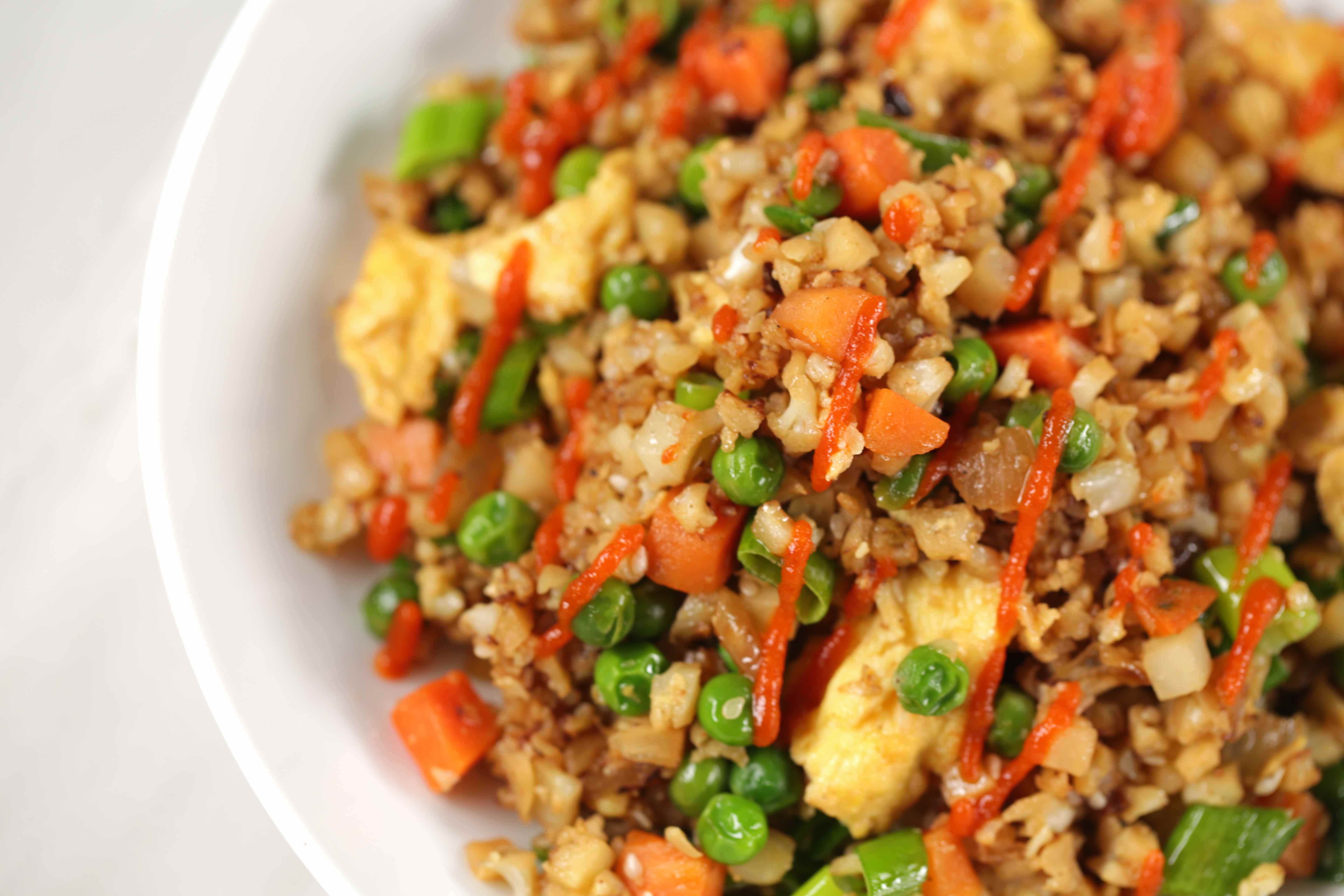 DESCRIPTION
A less starchy alternative to white or brown rice, this delicious Cauliflower Fried Rice recipe features riced cauliflower and LouAna Peanut Oil. The slightly nutty flavor of our Peanut Oil subtly enhances this dish.
PREP, COOK, TOTAL TIME
Prep time: 10 minutes
Cook time: 20 minutes
Total time: 30 minutes
SERVINGS
Serves: 4–6
INGREDIENTS
3 tablespoons LouAna® Peanut Oil, divided
3 eggs, scrambled
1 teaspoon kosher salt, divided
½ cup onion, diced
2 cloves garlic, minced
½ tsp ground ginger
4 cups riced cauliflower, about 1 lb.
1 tablespoon sesame seeds, plus more for garnish if desired
1 cup frozen peas and carrots
1 tablespoon mirin
3 tablespoons low sodium tamari or soy sauce
½ cup (about 3) sliced scallions
Optional: Sriracha
DIRECTIONS
Heat a large non-stick skillet over medium heat and add 2 teaspoons of LouAna Peanut Oil. Add eggs and ¼ tsp salt and stir until the mixture reaches a semi-firm scrambled state. Remove eggs from pan and keep warm. Wipe skillet clean, return to stove over high heat and add remaining peanut oil. Add onion, garlic and ginger and cook 12 minutes until slightly softened. Add cauliflower and cook, stirring occasionally until slightly softened and lightly golden, about 5 minutes. Add in sesame seeds, remaining salt and frozen vegetables and cook 2 minutes. Stir in mirin and soy sauce. Add scallions and serve topped with a drizzle of sriracha if desired.